Below is another terrific resource for planning your fall garden from
Bountiful Gardens
.
However! Please note that they are in Willits CA which is USDA zone 8B and their advice is based on their soil, temperatures, etc.
My garden is in Northeast Oklahoma zone 7 and while I often give advice for other zones I'm specific about it. I'll be starting peas, beans, lettuce, chard and kale soon but our soil temperature is still too high. I learned that by putting in seeds 2 weeks ago -they just sat there.
This is worth a read just for the reminders so we'll succeed with fall veggies.
Garden Tips For Now: Fall
and winter gardening is easier than summer gardening in lots of ways--
there are fewer w
e
eds, fewer pests, no glut, and a slower pace that makes keeping up easier. Anything you grow is so appreciated when
the days are cold. The hard part is knowing when to start those fall crops. In most places, most plants won't grow much in winter--they need to be fairly mature before cold weather, and will then hold for a long time.
Click here for seeds to plant now for fall and winter.
This gives a quick and easy selection of the most foolproof varieties (not every kind of cabbage or chard, just the ones that do best in fall), some guidance on to what to plant when, and info on how to determine your zone and first frost date.
Figuring it out: Spotlight on the easiest fall vegetables.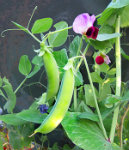 Peas are often forgotten but so rewarding--even a small handful gives a fresh taste to fall salads and cooked dishes. Now there are 2 ways to plant and use them--a patch for producing pea pods and a patch to cut for shoots, which are expensive delicacies at the store but easy at home. We recommend the well-named snow peas for fall planting. There are two--
Oregon Sugar Pod
, for big pods on 3 to 4' plants, and
Dwarf Grey Sugar
for short vines with purple flowers and bite-size pods (shown right).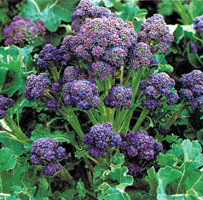 Broccoli is many folk's favorite, and not hard to grow. Plant now for fall crops, and give them plenty of compost for fast
growth. We like to plant a trio:
DiCicco
or
Soltice
for a fast crop,
Piricicaba
for winter sprouts and leaves in a poly tunnel, and
Purple Sprouting
for a crop in the spring before spring-sown vegetables are usable yet. (this works in zone 7 and above).
Kale takes awhile to size up, and will go all winter from a single sowing, so plant plenty now. It is hardy to zone 5 or 6 with no protection (depending on wind and moisture), and zone 4 with a bit of cover--hoophouse, coldframe, fleece, or even a snowbank.
Kale
and the salad green
Mache
, are the hardiest of all vegetables, and can take weather below zero. Easy to grow--just give it plenty of compost.
Collards
and
Tronchuda Cabbage
are also non-heading leaf crops. Planted now, they will go until the ground freezes solid.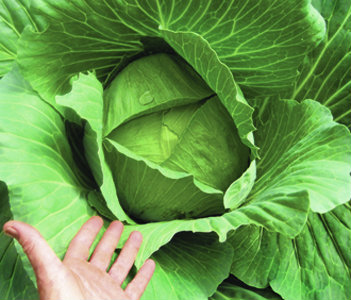 Cabbage needs a pretty long time to get up to size and then make a head, so we suggest that gardeners in most places plant the fastest-growing varieties now.
Greyhound
and
Primo
are perfect for fall crops that need to mature fast. Hardy and long-standing winter cabbages need more time; you could grow
January King
or a midseason like
Copenhagen Market
(shown right) if your first-frost date is in mid-November.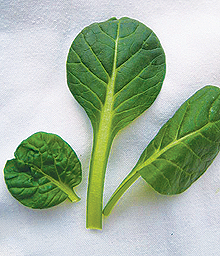 Perhaps the perfect things to plant now for quick fall crops are
Chinese Cabbage
,
Mizuna
,
Vitamin Green
, and
Tatsoi
(shown left--and most hardy of all). They grow fast, love cool weather, and are extremely easy in the fall, when bolting is not a problem. Some are mild enough for salad, and all cook in 5 minutes or less. They are also extremely forgiving, so timing is not as crucial--plant from now all the way up to your frost date, especially if you can put up a simple row-cover or use fleece when temperatures go below 25 degrees at night. They are hardy all winter outdoors in zone 8.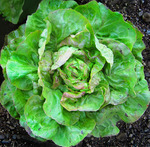 Lettuce is not as hardy but grows faster--so plant it every two weeks until a month before your frost date. In zones 8-10, winter varieties can survive in the open, or with a bit of cover if weather is very cold. Lettuce will die if the ground freezes. In zones 7-4 it can be grown in unheated coldframes and hoophouses. Add one layer of protection for each zone: so in zone 6 you would need fleece over lettuce inside a hoophouse, for example. It's more hardy cousin, Frisee, will grow one zone colder than Lettuce. For salads in very cold areas like zones 5 and below, it is easier to grow other, more hardy, greens for salad, like
Minutina
and
Miner's Lettuce
. You can find detailed instructions and pictures in Elliot Coleman's Book,
The Four-Season Harvest.
Click here for The Winter Salad Collection--
seeds for 7 salad greens (4 lettuces, 3 others) plus an info sheet
Click here for the Winter Vegetable Collection
--seeds for 10 of the very hardiest winter crops--2 lettuces, 7 other greens, and a carrot. These are the vegetables featured in The Four Season Harvest.
---
Winter Grains: Simplicity Itself
You can grow enough wheat to make a loaf of bread a week for a year in a 15' X 20' space. Grains are grasses, which grow easily and don't require a lot of care. To learn about growing them in your back yard, we recommend Homegrown Whole Grains, a great book with interviews of home gardeners who've done it, recipes, and step by step instructions. Carol Cox, who managed our research garden for years, has written a very useful pamphlet on backyard grains as well.
Click here for Fall-Planted Grain Seed
Click here for our pamphlet on grain-growing (70 pp)
---
Cover Crops/ Compost Crops: Build Fertility---Suppress Weeds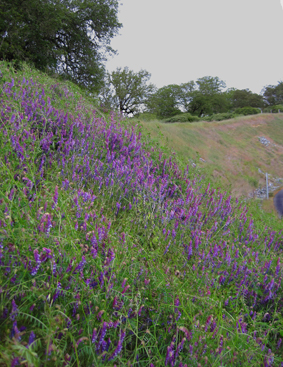 Leaving soil bare over the winter creates many problems: rains compact the soil, the rich surface layers wash away, leaving the garden in worse shape than it was in the fall. Nature fills empty space with weeds, which at least hold the soil, but make other problems. Many of us try to mulch the whole growing area every fall to prevent these problems, but where will all that mulch come from? Often the project gets put off because it is time-consuming, involves borrowing a truck, or is expensive.

Cover crops are an elegant solution to every one of those problems. They add free fertilizer, protect the soil all winter and leave it aerated and easy to plant in the spring. They prevent weeds from taking over the space. And, instead of having to haul in mulch, you grow a crop of mulch or compost material! The picture at left shows a hillside being restored with vetch. Vetch is a great way to start with compost cropping--it is super-easy to grow and super-easy to pull up in spring--the stems break off at ground level leaving the roots to enrich the soil. You can clear a 100sq ft bed in under five minutes.

There are many cover crops, to solve many specific problems. A good plan is to mix one legume and one winter grain--like triticale and peas. You can add a problem-solver for your particular area, (like mustard for fighting some soil pests) or a food crop like fodder radish. Or just use our Overwintering Compost Crop Mix, a well-balanced addition to most every garden.

If grassy-looking grain plants to 5 or 6 feet will not fit with your (or your neighbor's) landscaping plans, try our new Decorative Compost Crop Mix, which covers the ground to 2' in winter (Zones 6-10 ) and then blooms in spring.

Click here to see a chart to help you select cover crops for your situation.